Kobe Bryant can't be understood. Hundreds of journalists have attempted to penetrate the heart of darkness that seemingly ticks only to destroy his opponents' will. The results feel like they are only scratching the surface of arguably the most polarizing player ever.
Los Angeles Lakers coach Phil Jackson is better positioned than most to examine the recesses of Bryant's soul. Jackson has been around for Precocious Kobe, Willing Sidekick Kobe, Unwilling Sidekick Kobe, Petulent Kobe and, now, Redeemed Champion Kobe. The Zen Master is famous for handing out books for his players to read, nudging them down the path to enlightenment. In 2000, Jackson's pick for Bryant was Paul Beatty's ferociously biting satire "The White Boy Shuffle."
Jackson saw the easy parallels between Bryant and the novel's main character, Gunnar Kaufman, a young African-American searching for a cultural identity. Back then, Bryant was still defining his basketball identity, vacillating from game to game between poles of the age-old hoops conundrum of individual vs. team success. As with the fictional Kaufman, Bryant's struggle would have to combust in some historic manner. It did with the 81-point explosion against the Toronto Raptors on Jan. 22, 2006.
Kaufman starts out at as a skateboarding, heavy-metal listening beach bum in Santa Monica, then experiences a shock to the system when he moves to a grittier neighborhood. Kaufman finds outlets in poetry and, yes, basketball. Bryant's peripatetic childhood also shaped his character. He followed his father across Europe as Joe "Jellybean" Bryant found pro hoops work, then the family settled into a leafy Philadelphia suburb. New schools, shifting sets of friends … basketball was the only constant for Bryant.
Owing to his unusual upbringing, Bryant faced questions of authenticity. His game was traditional, almost aristocratic. In "The White-Boy Shuffle," there is a striking scene when Kaufman gets his first basketball from his father:
"As I ran out to retrieve the ball, a book landed at my feet. The book was a thin paperback entitled 'Heaven Is A Playground.' From what I could glean from the back cover, it was a sports journalist's treatise on a pack of inner-city Brooklynites who spent the better part of their days scampering around a basketball court known as the Hole. Inside my father had scribbled a note: 'Read this and remember you're a Kaufman and not one of the black misfits sociologically detailed herein.' "
Kaufman becomes an All-American baller, a mega-selling poet and then a reluctant "leader" of African-Americans. Rebelling against those stereotypical pathways to success, his fame explodes when he advocates suicide as a means of societal change. Bryant became an All-American, the anointed leader of a new generation of stars and then was vilified for his soloist leanings.
The period of the 81-point game was Bryant at a low ebb. He still hadn't shaken the stigma of the Colorado charges and the fallout from the Shaquille O'Neal trade. He was forced to play in a starting lineup that included Chris Mihm, Kwame Brown and Smush Parker.
Bryant tried to play it straight in the first quarter against the Raptors. He ran the triangle offense. He was patient, not taking a shot until several minutes into the game. But the frustration was visibly mounting, as Brown bobbled another ball away and got lost on defense or Parker jacked up an outrageous three-pointer. Bryant started taking over after Toronto raced to a 21-11 lead. He had 14 points at the end of the first.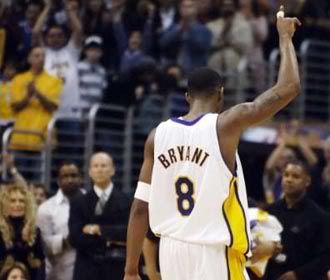 Bryant sat the first six minutes of the second quarter, watching as a mediocre Raptors team pushed the lead to 18 points. It was then that Bryant likely decided to strap on the messiah shoes. He had 26 at halftime and the Lakers were still down 14.
The third quarter could be the defining 12 minutes of Bryant's career, possibly more than the most recent championships. Like Kaufman, his inner rage would spill out with historical consequences. He had 27 of the Lakers' 42 points in the quarter on 11-for-15 shooting. The Raptors' soft zone and a passel of average defenders — Morris Peterson, Jalen Rose, Jose Calderon, Joey Graham — never stood a chance when Bryant got that monomaniacal glint in his eye.
The fourth quarter was a farce that even Beatty couldn't have conceived. There was no pretense that the Lakers were playing a straight-up basketball game; Bryant was going to shoot virtually every time down the floor. It was almost like a catharsis for him, if Bryant was going to be labeled as selfish he was going to take that criticism to such an extreme that no one could look away. It was a remarkable exploration of individual play, the loping traipses in the lane, the artful pump fakes, the dead-eyed three-pointers from the wing. Jackson just looked on slack-jawed (disgust or amazement?) on the sideline as Bryant got his 81 (28-46 FG, 18-20 FT). The masses at the Staples Center ate it up.
After his self-immolation proclamation, Kaufman retreats to a motor court motel with his mail-order bride and new daughter. After his 81 points, Bryant realized he couldn't put forth that kind of effort every game. He later got his help in Pau Gasol, and the third act of his career now features Bryant as the ultimate winner. It's like he realized Gunnar Kaufman's first statement in the prologue to "The White Boy Shuffle": "On one hand this messiah gig is a bitch."